The "Acustic" model by Lidl is built on the Lehmann-Chemnitzer compensating valve patent of 1925. It features a four-story rotor in the center that adds the short segments of tubing to extend the B-flat valves for the F horn. This "walzen" valve design was favored by several important players in the 1930s in and was used by several makers.1 The valve design was patented in Germany (#440308) by Carl Lehmann, a brass instrument maker in Hamburg from c. 1925 to after 1944, and Erdmann Chemnitzer. Another interesting variation of this design incorporating piston valves was made by Gebroeders De Prins in Anvers, Belgium.

Josef Lidl (b. Manetin/Pilsen, 1 July 1864; d. Brno, 11 January 1946) trained in Sternberg from 1879 to 1884 and by 1889 was working for brass instrument maker Georg Drab (1856 - 1902), in Brno (Brünn), Moravia.. He established his firm there in 1892 first in 1892 as a pianoforte dealership then in 1895 as a factory for brass and string instruments. In 1905 he moved to a new factory making string and percussion instruments, and accordions as the "first Czech musical instrument factory in Moravia." In 1920 his son Václav (b. Brno 31 October 1894; d. 1972) became successor and string insturment manufacture became important. By 1927 the total workforce was over 50 including a subsidiary factory "Lidl & Velik' manufacturing pianofortes and harmoniums. In 1948 the firm was nationalized and merged with Amati (Kraslice).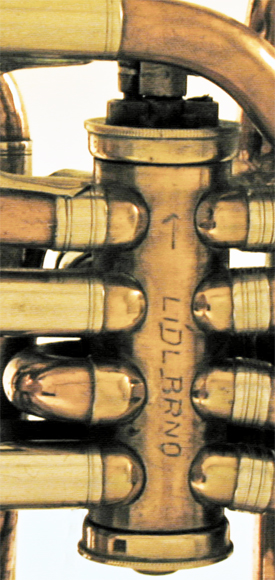 Walzen change valve

Josef Hobik, former principal horn in the Czech Philharmonic, Prague Radio Symphony, and Prague National Theatre Opera Company, is one of many eastern european artists who performed on horns of this design. His recording shown below includes: Saint-Saens: Romance, Op. 36, Glazunov: Reveries, Op. 24 Dukas: Villanella (sic), Schumann: Adagio & Allegro, and Mozart: Concert Rondo, K. 371.