Josef Suttner was born March 18, 1881 in Prague-Smichov. He first studied oboe, but at the request of Antonin Dvorak, he took up the horn studying with Anton Janousek at the Prague Conservatory. He had also studied to become a Kappelmeister and took a position as third in a Prague theater. Janousek, however, encouraged him to take his own horn position at the opera for much better pay when it became available and in 1902 he received an appointment as solo hornist in the orchestra of the Prague National Theater. From there he moved to Karlsruhe in 1904 where he played solo horn in Großherzoglich Badischen Hofkapelle until until 1918. In 1908 he was given the title Hofmusiker (Court Musician) and in 1908, 1911, 1912, and 1914 he was solo hornist at the Bayreuth Music Festival. He was invited to perform as guest solo horn in the Metropolitan Opera, New York, but was not permitted to leave Karlsruhe by his employer. In 1910 Suttner was given the title Kammermusiker (Chamber Musician), and in 1917 Kammervirtuosen (Chamber Virtuoso). He received the title "Reichskammervirtuose" by the Cultural Ministry in Berlin July 19th, 1939. This title had nothing to do with the regime at the time, but was just an elevation to Reichs-level of the titles he held already. He was recommended for this title by the institution he worked with, the State Opera.
The Horn Quartet of the
Großherzoglich Badischen Hofkapelle Karlsruhe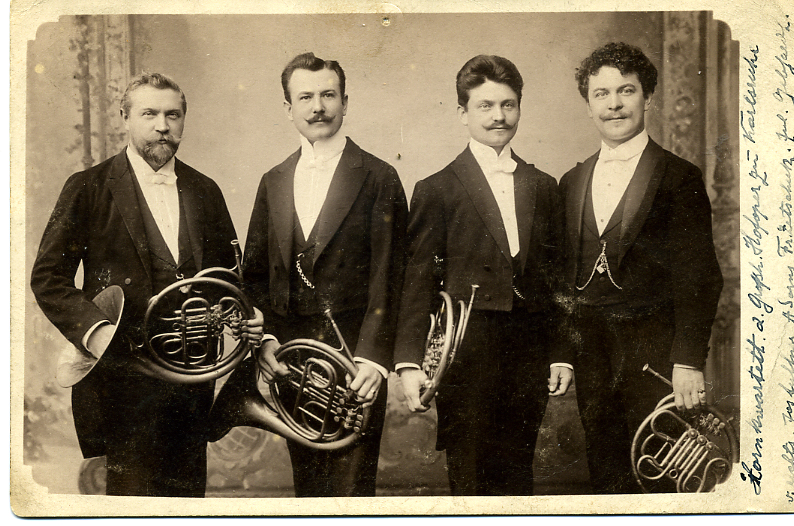 Click to see back of card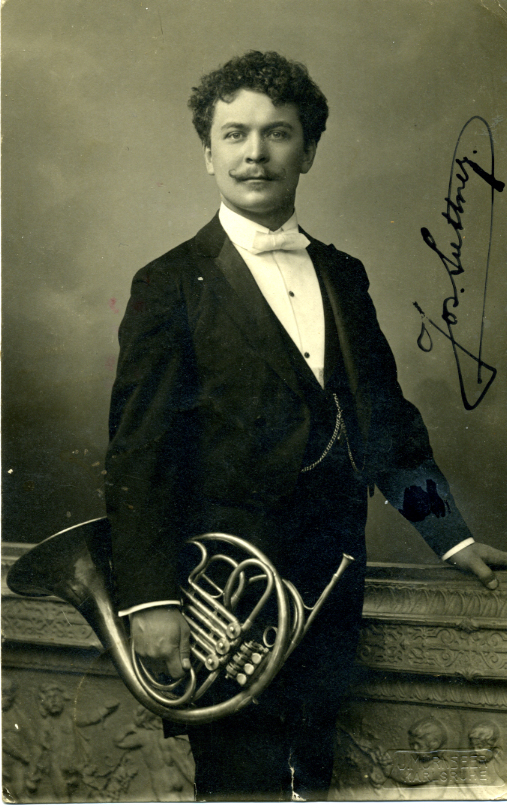 Click to see back of card
The Horn Quartet of the
Bavarian State Opera, Munich, 1935
Prof. J. Suttner, D. Schloderer, O. Hieber, A. Lettenmeyer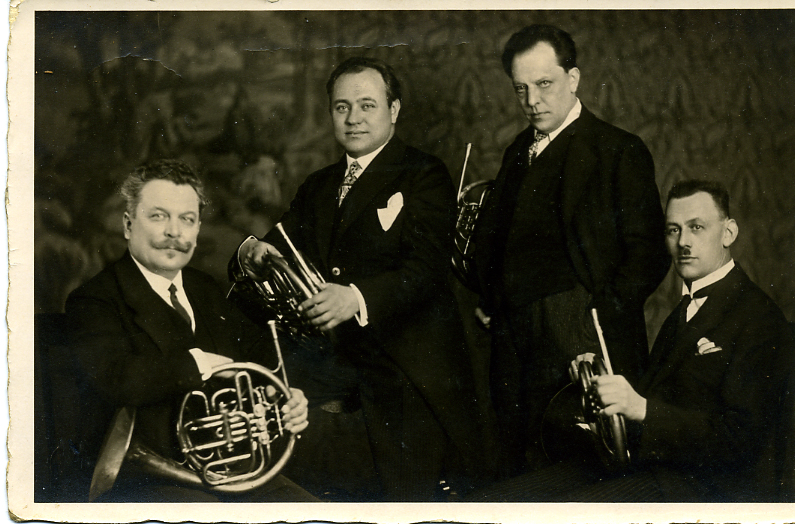 Click to see back of card
In 1918 Suttner moved to the Bavarian State Opera in Munich and was offered the same pay as the concertmaster. He succeeded Bruno Hoyer in the prestigious Franz Strauss chair. From 1920 to 1945 he taught at the Munich Hochschule. Heinrich Kaspar Schmid composed Im Tiefsten Walde for horn and piano, one of five pieces solo wind instruments for Suttner, in 1920. Prof. Suttner was solo horn with the Bavarian State Opera from 1918 until his retirement in 1945. His solo repertoire ranged from "Va Tacito" from Handel's opera Giulio Cesare, played on a Jagdhorn (!) to the horn concertos by Mozart, Carl Maria von Weber, Carl Matys, Richard Strauss and composers of his time. Among his solo performances with this orchestras were Mozart's second horn concerto conducted by Bruno Walter. Suttner was called the "clarinetist on the horn" due to his amazing technique and range as evidenced in his own horn concerto. He requested Richard Strauss, whom he had known for many years, to compose a second horn concerto which he dedicated to to Suttner in 1943. He played the horn part in the premiere of the trio for horn, violin and piano op.110 by Heinrich Kaspar Schmid, and the world premiere of the horn concerto by Karl Pottgiesser. Even after his retirement, he stepped in at the last minute to the Munich Opera Festival on 27 July 1947 as a solo hornist in the opera, Die schweigsame Frau (The Silent Wife) of Richard Strauss, conducted by Georg Solti, a very difficult part that he had never seen or heard previously. Over his career Suttner performed the famous "long call" from Wagner's opera Siegfried a total of 153 times, a record he still holds.

In addition to the horn concerto mentioned above, Josef Suttner himself has composed numerous pieces for horn quartet, a piece for horn and piano under the title Erinnerung sowie Etüden ("Remembrance as Etudes"), and Praktische Studien für Waldhorn (Practical studies for French horn, edited by Peter Damm, Musikverlag Bruno Uetz, BU 1220, ISMN M-50146-166-0). Suttner wrote the latter studies as an introduction to the operas of Richard Wagner. Rather than being orchestral studies in the narrow sense of the word, they are intended to acquaint the horn player with the challenges presented by Wagner's works.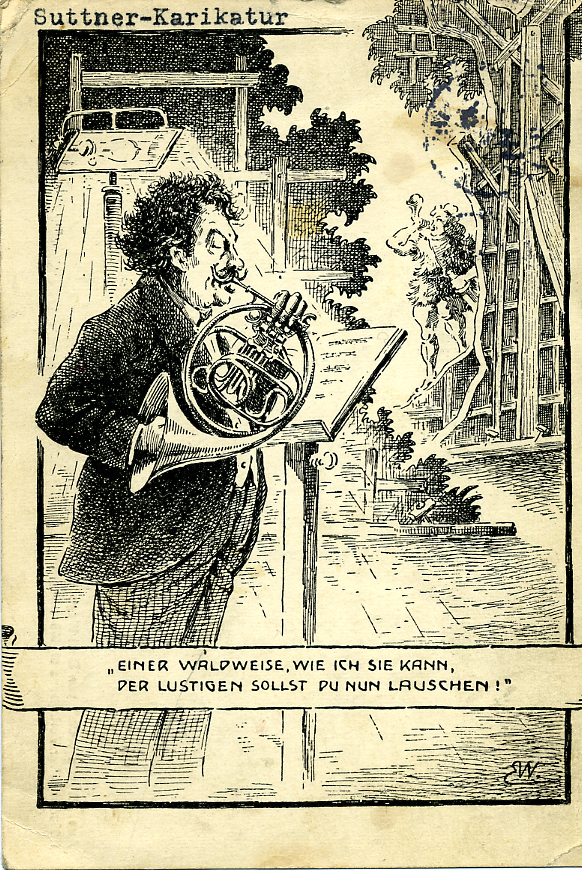 Click to see back of card