Little Girl Blue
Time Magazine
Monday, Nov. 13, 1939


Chamber music is caviar to musical gourmets. Caviar from the very finest of sturgeons is the chamber music produced by the famed Budapest String Quartet, world's top-ranking string ensemble. To gobble up this treat last fortnight Manhattan's hungriest musical highbrows gathered in Town Hall to hear the first concert of the New Friends of Music's annual chamber-music series.

For the occasion the Budapesters had with them two guest soloists: athletic William Primrose, world's No. 1 viola player and chief violist of Arturo Toscanini's NBC Orchestra; a small, plump, snub-nosed young woman who booped mightily through the brass coils of a big French horn. When she had finished the horn part of Mozart's Quintet in E Flat Major, with dignity she dumped the saliva from her horn, rose and went home to practice for this week's concert. The young woman's name was Ellen Stone, and playing with such topnotchers as the Budapest Quartet bothered her no whit, for she is the best woman French horn player in the world.

The French horn (musicians call it simply the "horn") is far & away the hardest of all brass instruments to play. Horn-blowers must have sensitive lips as well as stout lungs. Ellen Stone first tried her lips and lungs on a French horn six years ago, in the Teaneck, N. J. high-school band, when she was 16. Says she: "After three days I wouldn't have given it up for worlds. I felt comfortable on it." By now she sounds comfortable on it, but it took some doing. She practiced from morning to nightin the garage whither her distracted family banished her. Three years later she got a scholarship from Manhattan's Philharmonic-Symphony Society. One year after that famed Conductor Otto Klemperer heard her play, and hired her to solo with the newly formed Pittsburgh Symphony.

Today, 22-year-old, dark-haired Ellen Stone lives with her horn in a little bare-floored room off Manhattan's musical 57th Street. For amusement she goes to the movies, reads "great sociological novels like The Grapes of Wrath." But her big thrills come when her boy friends (mostly fellow horn players) ask her out for an evening of horn duets and trios. Her hero: sober, 180-lb., 52-year-old Bruno Jaenicke, world's champion horn player, who beeps and purls in John Barbirolli's New York Philharmonic-Symphony.

---

Of Miss Stone's appointment to the Pittsburgh Symphony, Frédérique Petrides wrote in the October 15, 1937 issue of Women in Music:
Major Symphony Ignores Precedent

New York City, - With the disclosure, a few weeks ago, of an arrangement effected late this summer by the Pittsuburgh Symphony Orchestra, interest among feminine musicians has naturally centered - not without ample and well-founded gratification, of course-on the inclusion in that symphonic body of a woman horn player.
The player is twenty-year old Ellen Stone, a native of Bogoda, N.J., and the first of her sex to ever be included in the brass section of a symphonic body not composed exclusively of women. She was selected by Otto Klemperer, who held auditions this summer to choose ninety players for the Pittsburgh Symphony Orchestra.
Somewhat discouraged after two other tradition-steeped orchestras refused to employ her, despite her qualifications, this gifted artist was momentarily stunned to disbelief upon hearing that she was chosen as the Pittsburgh Orchestra's first horn, following her three auditions for Klemperer, who, by selecting a woman for this post, rose above precedent or discrimination between sexes in the orchestral field.
Miss Stone has received her ensemble training with the National Orchestra, at the Juilliard and Oberlin College. One of her many laurels is also the Philharmonic Scholarship for 1936-37, awareded her by the National Orchestra Ass'n. In view of the fact that horn players from her sex are given even less opportunities for orchestral engagements than their string-playing sisters in music, her Pittsburgh affiliation will, no doubt, prove an added incentive to women players of the horn, the oboe, bassoon, etc.
Full of faith now in a bright future for herself, Miss Stone expects to play in all thirty-six concerts of the Pittsburgh Symphony this season. Her arrangement provides her with a six-week termas the first horn. That term over, she will continue in that position, or she may be given the also important assignment as the third horn. In addition, she is to play the Strauss Concerto as the Symphony's soloist.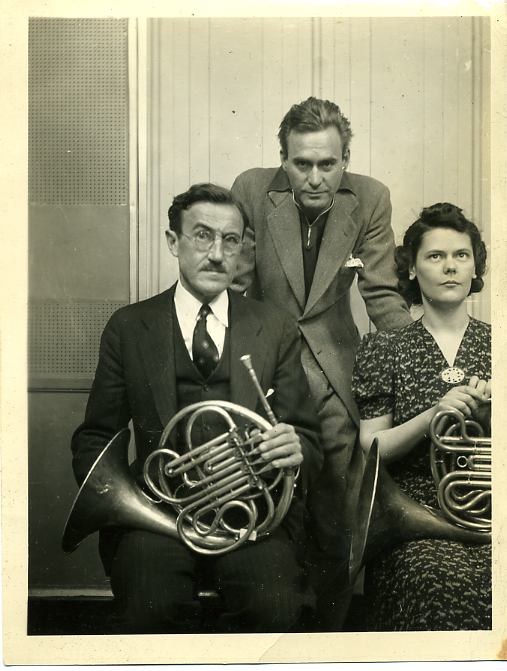 Click to see reverse side of the photo.
Ellen Stone was born in 1917 in New Jersey, a daughter of Henry and Isabel Stone. Miss Stone studied with Mr. Josef Franzl and as a New York Philharmonic-Symphony Scholar with Robert Schulze of the orchestra. She also attended the Oberlin Conservatory of Music, Oberlin, Ohio. In 1935 she was featured as a soloist and as a member of the Oberlin Conservatory Ensemble on CBS radio station WHK.

In the above photo Miss Stone is pictured with Eric Hauser and composer-conductor Macklin Marrow apparently in a recording or broadcast studio. On Wednesday, March 6, 1940, at 5:00 p.m. she was a featured soloist with the WNYC Concert Orchestra, Herman Neuman, conductor.

The snapshots below are also from the collection of photos of Mr. Franzl and it is assumed that these young ladies are his students. In the photo below left, the leftmost player is Miss Helen Enser and the third player is Miss Ellen Stone. This is probably the Gabrielle Quartet, in which case the other two players are Frieda Eissman and Suzanne Howitt.
January 31, 1937: Under the auspices of the New York Flute Club, a quintet trained by Mr. Georges Barèrre comprising Lorna Wren, flute, Lois Wann, oboe, Ellen Stone, horn, Erika Kutzing, bassoon, and Beatrice Merlau clarinet gave its first concert in the Beethoven Association's Clubhouse.

May 3, 1937: Miss Stone was also featured with the National Orchestral Association conducted by Leon Barzin at Carnegie Hall in Mozart's Sinfonia Concertante for winds. The reviewer commented of the soloists: "The expert playing of these young musicians who are associated with the orchestra evoked generous applause from the large audience."

November 12, 1939: The New York Philharmonic-Symphony String Quartet with Ellen Stone and Philip Palmer, horns, performed Mozart's Divertimento for strings and two horns, K.V. 217 as part of the New Friends of Music Series.

November 19, 1939: The New Friends of Music presented the Budapest Quartet and William Primrose performing the Beethoven quintet in C and the Mozart quintet in B flat at Town Hall. The afternoon concluded with the Mozart E flat Serenade for Winds in which the performers were Lois Wann and Richard Nass, oboes; Arthur H. Christmann and Willy Salander, clarinets; Ellen Stone and Philip Palmer, horns; Bernard Balaban and Louis Mastrocola, Bassoons. Josef Blant conducted.

February 9, 1940: New Friends of Music, Town Hall, 8:30 P.M. Participants: Busch Quartet and Enit Szantho, contralto; William Primrose, viola; Ellen Stone and Philip Palmer, French horns, and Morris Tivin, bass.

March 17, 1940 As a faculty member of the Henry Street Settlement Music School, Miss Stone perfomed in a Woodwind Ensemble also including Lois Wann (oboe); James Collis, clarinet; William Heim, flute; and Herbert Balaban, Bassoon.

October 16, 1940: Bach Interpreted by Chamber Group - Klemperer Conducts Recently Formed Orchestra of New School for Research - Receives Warm Welcome - Twenty-five Performers Had First Rehearsal Recently - Four Concerts in Series
The recently formed New School for Social Research Chamber Orchestra gave the first in a series of eight concerts last night in the school's auditorium. At this initial appearance the ensemble was conducted by Otto Klemperer. He will also direct the next three concerts of the series. Mr. Klemperer, who earlier this month gave up his position of the Los Angeles Symphony Orchestra, had not mounted the podium in New York since December, 1938, when he led the Philharmonic-Symphony Orchestra for a part of the season. His return to the local platform last evening was marked by an enthusiastic welcome from a capacity audience.
The program, like the others to be led by Mr. Klemperer, was devoted entirely to the music by Bach.... ...in the concluding offering, the Brandenburg concerto, No. 1 in F major, the soloists comprised Rudolf Kolisch, violino piccolo; Mr. [Joseph] Marx, Harry Shulman and Harris Sluyter, oboes, and Ellen Stone and Philip Palmer, horns...
...In [the first] selection the orchestra's work was rather ragged, but during the remainder of the program it showed its real stride, all of the other the other numbers being given with full-bodied, resonant tone; firm rhythm, accuracy of detail and an infectious youthful exuberance....
Mr. Klemperer was to be congratulated on the plane of efficiency to which he had carried the group in the short period since its first rehearsal earlier this month. His readings had the ring of true authority, and held his forces under control with uncommon positiveness and economy of gesture. He and all concerned must have been deeply pleased by the sturdy response aroused by their serious and praiseworthy efforts.

October 29, 1940: Ralph Kirkpatrick, first of a series of three harpsichord recitals for the benefit of the Scholarship Fund of the Dalcroze School of Music, Carnegie Chamber Music Hall, 9 P.M. Sonata No. 9 in A minor, Carlo Tessarini; Pieces de clavecin, Claude Balbastre; Sonata, Op. 9, No 3, Schubert; Sonata in F minor, Telemann; Variations on Fischer's Minuet, Mozart; Trio Sonata in E flat, Handel. Assisting artists Ada MacLeish, soprano; Lois Wann, oboe; Frances Blaisdell, flute; George Goslen, bassoon; Lois Porter, violin; Ellen Stone and Philip Palmer, French Horn.

November 17, 1940: The Mozart Chamber Orchestra, composed of faculty of the Music School of the Henry Street Settlement, will give three Sunday night concerts. Dec. 8, Jand 26, and March 23 at the Playhouse, 466 Grand Street, under the baton of Robert Scholz. The opening program will be devoted to the works of Bach including the Triple Concerto, the Italian concerto and the Third Brandenburg concerto. Two symphonies. a divertamento and other compositions of Mozart will be presented at the remaining events. Assisting artists will be Edith Weiss-Mann, harpsichord; Paul Makovsky, violin; Anabel Hulme, flute' Lois Wann, oboe; Ellen Stone, horn, and Eleanor Stokes, soprano.

December 6, 1942: Mozart Chamber Orchestra, 466 Grand Street, 8:30 P.M. Conductor, Robert Scholz; soloists, Ellen Stone, French horn; Katherine Rauch, soprano. Mozart program.

March 16, 1943: The National Orchestral Association, Leon Barzin conducting gave an unusual program at Carnegie Hall last night, described as "Women in Music." Following the opening selection, the Gluck-Wagner Overture, "Iphigenia in Aulis" every number employed employed a woman as soloist. All except the last piece presented were of the eighteenth century...
...Mozart'z Concertante Quartet for Oboe, Clarinet, Horn and Bassoon followed, played by Doris Delman, Ruth Wallace, Ellen Stone and Eleanor Kovar, respectively. Here again the flavor of the age of Mozart was attained, although the second movement, Adagio, dragged.