Click for a larger view
An unidentified late nineteenth century trio from Aberdeen Scotland, comprising clarinet, horn, and bass viol.


The players are unidentified but by their dress appear to be professionals, perhaps on tour from London. The horn player appears to suffer from a severe case of arthritis in his left hand (see photo detail below). Note that his fingers are so deformed and swollen that he is forced to wear his wedding ring on his digitus minimus. Noted London horn history sleuth, John Humphries, conducted some research on a recent visit to Aberdeen, Scotland and filed this report:

The [Aberdeen] Northern Figaro, which was first published in November 1884, appeared weekly and carried an extensive column devoted to music making in the area. There were a surprisingly large number of musical events in the city, but at that time but most were choral, with instrumental music consisting largely of piano, or piano and violin recitals. There were also military band concerts but most significantly, orchestral concerts were given regularly by the Aberdeen Philharmonic Society. Their programmes were quite ambitious and included works such as Wagners Rienzi Overture. I assumed at first that this meant that there must have been horn players living locally, but the Aberdeen Weekly Journal, 21st January, 1889 explains that It is difficult in an amateur orchestra to have all the different instruments represented, and the Philharmonic Society are under the necessity of engaging bassoons, oboe, French horn, and flute from Glasgow to assist at the concerts.

From around the beginning of 1887, the Northern Figaros music critic seems to have started to notice the horn player in the Philharmonic. We hear that the horns did admirable service and he singled out the still-anonymous horn player for praise again on April 2nd. He was not anonymous in the Aberdeen Weekly Journal, however: three days earlier, on March 30th, their musical correspondent had pronounced that The favourite piece with the audience was Rossini's Semiramide, where the oboes and French horn came in with admirable effect, the latter being played by Mr. Esdaile, of Richter and Manns orchestras. (Manns orchestra refers to the Crystal Palace Orchestra, which was conducted by Auguste Manns, while Richters Orchestra was conducted by the great conductor and former horn player Hans Richter.)

I didn't have time to look beyond October 1890 and I found no further references to Esdaile, but by that date, [the photographer] Dinnie had either already given up, or was about to give up the Bridge Street address. It is my best guess that Mr Esdaile is the horn player in your photograph and that the clarinetist and bass player were other extras called in for one of the Aberdeen Philharmonic's concerts. Other candidates during the period are few and far between, however. The very first edition of the Northern Figaro looks forward to a concert by Manns Band on 24th December, 1884 and refers back to their visit they had made the previous January. Their programme in December, which included the Freischutz Overture could have been a good advertisement for the horn section, if they played it well and perhaps Esdaile was among their number. The Figaro critic says elsewhere that apart from the Crystal Palace Orchestra, Aberdeen had been starved of top quality orchestral playing, which perhaps indicates that in the years immediately before the foundation of the Figaro, there had been no other major orchestral visits. He went on to hope that the Hallé might visit some time, a wish which was fulfilled around 1889. Apart from that, I would guess that there must have been other visiting horn players there was a performance of The Creation in September 1885 in which the local band was supplemented by several efficient men from south awa but I found no other positive sightings of horn players in the Aberdeen region during the six years I was able to research. I kept an eye open for chamber music, but the only performance I found of that Nineteenth-century evergreen, Beethoven's Septet a work which includes, horn, clarinet and double bass, was played, disappointingly, by piano duet.



[Since filing that report and after comparing this photo with another of Mr. Esdaile from about the same time we have concluded that the Aberdeen player in the photo is not Samuel Esdaile after all.]

The horn has two Stoelzel valves and its pitch is determined by terminal crooks. It it the same design as a horn in found in the Bate Collection made by Thomas Key, London, ca.1850 (see below) and is no doubt by the same maker if not the same instrument. In this instance the pitch has apparently been set to a very low key (possibly G basso) with the addition of a coupler placed between the crook and the corpus of the horn, however the valve slides do not appear to have been extended sufficiently to compensate for the low key. The valve section is a sauterelle and can be removed and replaced with a simple tuning slide. On the table to the left can be seen several additional couplers and the tuning slide for when the horn used as a natural horn as well as the clarinet reed cap.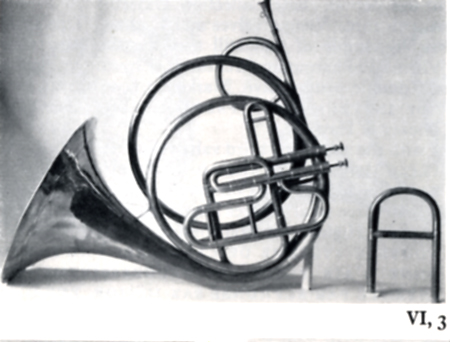 Click for a larger view
The horn shown above appears to be identical to the horn in the Aberdeen photo. It is now in the Bate Collection of Oxford University (number 62). Reginald Morley-Pegge (1973, plate VI, 3 and p. 20) describes it as follows:

Horn with two Stölzel valves. Here...the first valve gives the semitone. The instrument has two conical 'master' crooks, one single- and the other double-coil, and seven cylindrical couplers, an original mouthpiece, and its original box. It is possible to crook this horn from C alto to G basso. Marked:Key 20 CHARING CROSS LONDON. c. 1840.
...The combination crook system continued in use in England until mid-19th century. The writer owned a horn (Plate VI, 3) with a detachable set of two valves that was made about 1840 by one of the leading London makers of the time, Thomas Key; it has a crook equipment composed of two master crooks, on a single-coil an the other a double-coil, and no less than seven couplers. With the valves withdrawn and replaced by an ordinary slide the horn can be crooked in every key from C alto to G basso!
The New Langwill Index (1993, p. 204) states that Thomas Key was at 20 Charing Cross from 1812/13 to 1853, when he is presumed to have died. The firm continued at that address first with his son, Frederick, as proprietor and later (1855/56) under Rudall Rose Carte & Co. After 1858, Key's name was removed from the firm. The workshop was established according advertisement in 1800 by Thomas Key as a woodwind and brass instrument maker and music publisher. From 1804/5 he was in partnership with John Cramer as Cramer and Key. In 1805, as a "small" worker he registered his silver hallmark "TK" at Goldsmith's Hall, thereafter marking thus silver keys on his woodwind instruments. From 1807 to 1855 he was established independently as "Thomas Key". In 1809 he became listed as musical instrument maker "to their Royal Highnesses the Prince of Wales, Dukes of York, Kent, Cumberland and Cambridge". In 1825 Keat and Son became exclusive trade makers of brass intruments to Key.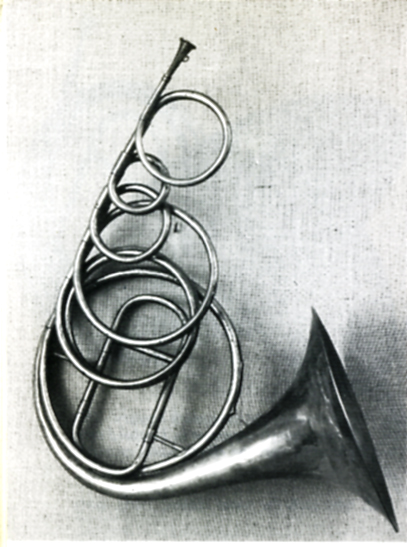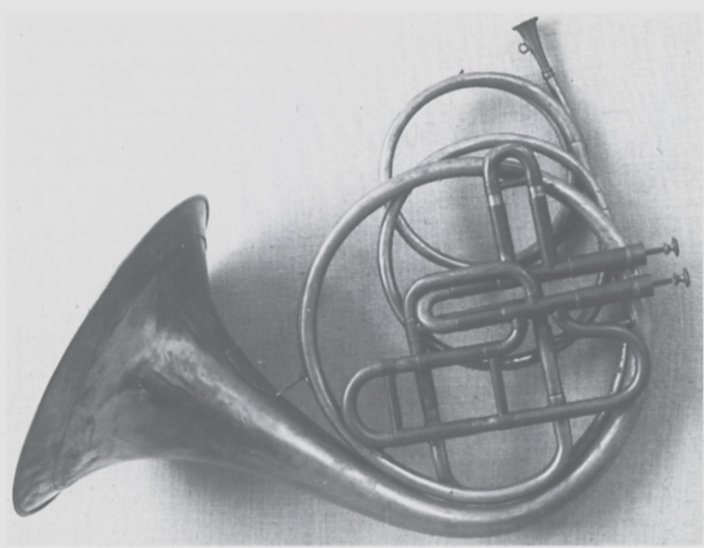 Click either picture for a larger view
Above left, the same horn configured as a natural horn, and at right once again as a valved horn.



Click for a larger view
Another similar horn by Key now in the Horniman Museum, London, (Carse 156) is shown in Carse(1939. Plate VIII) and Baines (1966, no. 784). This horn also incorporates two Stölzel valves but in this case they are fixed. Carse (p.221) describes it as follows:

There are very few English-made horns of that period; one instrument which bears the name Key, probably made about 1850-1860, is provided with two piston valves of the early Stölzel type on which the inlet or outlet passage is through the bottom of the valve-case, and a set of crooks which when used in various combinations, gave all keys from B flat alto to B flat basso. Baines (p. 148) that this horn has one conical master crook and seven cylindrical couplers.
---
---
The interior of the Aberdeen Music Hall as it appeared in 1885.
This is possibly the performance hall used by the musicians in the photo. Originally the city's Assembly Rooms the Music Hall was the city's concert venue at the time of the above photograph. Located on Union Street in the city center it was designed and built in 1822 by Aberdonian architect Archibald Simpson at a cost £11,500. Between 1858 and 1859 an extension onto what is now known as Golden Square was built and named the Music Hall, a name which is now given to the whole building.
---
---
The photographer of the trio was Alexander Dinnie of Aberdeen. According to cited information from Aberdeen & N.E. Scotland F.H.S. A. Dinnie appears as an "Artist and Photographer" at 3 Langstane Place from 1866/7 to 1880/81, and at Bridge Street and Bridge Place (the address on the above photo) from 1880/1 to 1885/6. This location is only a couple blocks southeast from the Music Hall.