Henri Van der Meerschen is best known as one of the six founding members of the London Symphony Orchestra in 1903-1904 and subsequently as third horn in "God's Own Horn Quartet" in that orchestra. The other members of the quartet were Adolph Borsdorf (principal), Thomas Busby (second), and Alfred Edwin (A.E.) Brain (fourth), father of Alfred and Aubrey Brain, and grand-father of Dennis Brain. On September 30, 1903 forty-six members of Henry Wood's Queen's Hall Orchestra suddenly resigned after it was announced that "deputies" (substitutes) would no longer be allowed. Among them were Borsdorf, Busby and Van der Meerschen who, with three others formed a committee to organize the London Symphony Orchestra.

Van der Meerschen was born in Brussels on September 30, 1866. He attended the Brussels Conservatoire first to study voice with horn as his second instrument, studying under Louis-Henri Merck. There he earned the Premier Prix with distinction in 1885 after which he was invited by Eugène Goosens to join the Carl Rosa Opera Company.

In 1893 he married Annette Sophia Mercy Laubach, daughter of Heinrich Conrad and Anne (Bourne) Laubach of Edinburgh, Scotland. Miss Laubach was was seven years older than Van Der Meerschen having been born on August 30, 1859 in Edinburgh Parish, Midlothian. She came from a musical family, her father having been music teacher and bandmaster of several groups in Edinburgh including the Kenniel (Bo'ness) Brass Band. Her brothers, Franklin and Conrad also became professional musicians. At the time she met Van der Meerschen she was an "operatic artiste" also in the employ of the Carl Rosa Company. Soon after their marriage the couple moved briefly to Glasgow, Scotland returning to London the next year in time for the birth of their first child, Therèsa Anna. It was then that he joined the Queen's Hall orchestra as fourth horn. A few years later their second daughter, Ella, was born and by 1911 the family had taken up residence at 44 Killyon Road, London, S.W.8 where Henri would live for the remainder of his life. Therèsa Anna returned to the family home from Quebec, Canada at about the time of Henri's passing ca. 1934. In 1937 she moved to 12 Geraldine Road in the Battersea district and established the Geraldine School of Dancing. She ran the school until about 1960, after which she moved to 4 Langton clo Becton Lane, New Milton where she lived until after 1971. She apparently never married.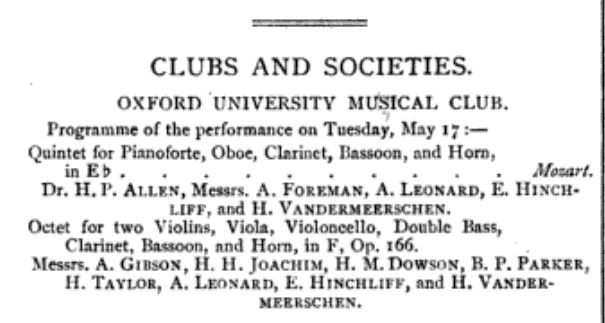 Mr. Van der Meerschen was also an occasional soloist and chamber player.
(from The Oxford Magazine, May 18, 1904)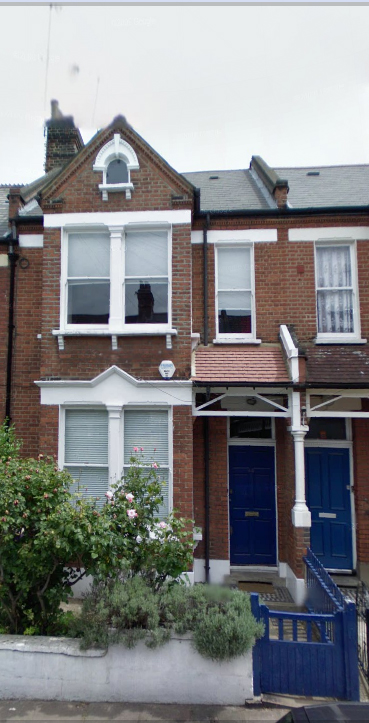 44 Killyon Road, residence of the Van der Meerschen family