Albert D. Hackebarth was born in Berlin, Germany on June 20, 1854.1 He played extra horn in the Bavarian State Opera Hofkapelle Orchestra (Munich) from 1878-1880. That section included Franz Strauss (1822 - 1905), principal, and also the brothers Franz Xaver Reiter and Josef Reiter. Mr. Hackebarth emigrated to the United States, arriving in New York on June 22, 1880. He became a naturalized citizen of the United States on April 14, 1896, in Boston.

Boston
In 1882, two years after his arrival in the United States, Mr. Hackebarth, now twenty-eight, was hired as second horn in the Boston Symphony under conductor Georg Henschel, replacing H.A. Gumpricht.2 This was only the Orchestra's second season, but it was known even before the first season that preference would be given to younger musicians. Prior to the first season, founder, financier, and effectively owner of the B.S.O., Henry Lee Higginson had written a statement of intent on forming the new orchestra. Included in that statement was the following: "At present my belief is that we shall incline after one season to the following course:...to engage eight or ten musicians of a superior grade, younger than those here, at a fixed salary also, who should be ready at my call to play anywhere; - and then to draw around them the best of our Boston musicians, thus refreshing and renewing the present orchestra, and getting more nearly possession of it, and so to give more and more concerts, governing ourselves by the demand here and elsewhere." According to Mr. Henschel, "In order not to make 'böses Blut' - as Mr. Higginson, who was and excellent German scholar, put it - i.e. to say, in order not to give offence at first, Mr. Higginson advised me to engage for the first season only the available local players." Near the end of the first season, Mr. Higginson sent a contract letter of invitation to current and prospective members for the coming season, stating that they would be required to be present for all services on four days each week and not take any outside jobs on those days. This was regarded by some as heavy-handed at the time, and was perhaps another reason that a total of twenty first-season members (including Mr. Gumpricht) did not return in the fall of 1882. (Five of those did return in later seasons, however.)

Mr. Henschel conducted the first three seasons of the B.S.O., and then in 1884 returned to Europe to resume his singing career. He was succeeded by Wilhelm Gericke, of Vienna. According to Mr. Higginson:

"...he came, took up his work here, and did his best, but after two concerts he said to me: 'You have not an orchestra here. There are some musicians, but it is hardly an orchestra.' Nevertheless, he worked with them during that season, and produced pretty good results. At the end of that time he went back to Vienna, engaged an excellent concert-master (Franz Kneisel) and a large number of good musicians, and brought them here."

Mr. Gericke put it more bluntly:

"In that time, a number of old and overworked musicians were in the Orchestra, no longer fit for the demands of modern and more difficult orchestral playing. Mr. Higginson thought they should be replaced by younger elements and, when I went to Europe, after my first season was over, he gave me the order to import twenty new musicians - among them a new Concert-master."


New York
It was probably due more to a better opportunity than to Mr. Gericke's and Mr. Higgison's policies, that at that point Mr. Hackebarth left his position as second horn and returned to New York to become principal horn of the New York Philharmonic, conducted by Theodore Thomas, replacing Theodore Lotze. (He probably also became a member of Mr. Thomas' other organizations which included the Brooklyn Philharmonic and the newly-formed American Opera Company, although that has not been established.) Mr. Hackebarth remained in the Philharmonic until the 1889-90 season. He was also a member of Thomas' sixty-six-piece orchestra and probably gave the American premiere of Tchaikovsky"s Fifth Symphony on March 5, 1889. The following season on January 26, 1890, he was featured as a soloist with the Thomas Orchestra at the Lenox Lyceum Concert Hall. On February 26 he was the guest of the Schubert Vocal Society, Newark, New Jersey, with flutist Hugo Wittgenstein performing the Serenade for horn and flute by Anton Emil Titl. On July 16 he appeared with the Thomas Orchestra in Chicago on a "popular ball-room program", once again performing Titl's Serenade. He was also on the faculty of the National Conservatory of Music of America, New York, incorporated 1885.

In the spring of 1889, Mr. Hackebarth was a founding member of the New York Reed Club, a woodwind quintet, whose members included Joseph Schreurs, clarinet, Felix Bour3, oboe, Frédérick Rucquoy, Jr., flute, and John Hellenberg, bassoon. Their first concert was held at Chickering Hall on March 1, 1889 and included Miss Virginia Rider and Miss Alma Hultkranz, soprano. The review in The New York Times was generally favorable:

The new club was heard in toto in a quintet in F major by [Johann] Sobeck, and a pastoral by Liszt arranged by [Eduard] Lassen. The members of the organization are all good players, and their work was excellently done. There is a danger, however, that an evening of this kind of music would become monotonous. Two or three numbers, however, in a miscellaneous concert would have the charm of novelty, and would certainly be enjoyable.4

The Club appeared two weeks later in a performance of Schubert's Octet on a program of the Beethoven Quartet of New York. Their second official concert on their own behalf occurred at the end of the same month in Chickering Hall, assisted by Miss Annie Lippincott, soprano, Miss Virginia Rider, pianist, and Mr. R. Kohl, basset horn, with Mr. Americo Gori as accompanist. The program included a quintet by George Onslow, a Beetoven Quintet for piano, oboe, clarinet, horn and bassoon, and a quintet by Liszt. On April 10th, they played at a musical reception hosted by Mrs. Nicholas Fish. The following season they gave a concert with members of Ovide Musin's Concert Company for the benefit of the Société de Bienfaisance Belge. According to the New York Herald, "The society and the concert deserved a better audience than the handful of people who tried to make up in vigor of applause for their lack of numbers." The program included Beethoven's Quintet, op.16 and "some minor pieces in a most delightful fashion.5

Back to Boston
In the fall of 1890 Albert Hackebarth returned to the Boston Symphony Orchestra to replace Josef Reiter as principal horn, who had temporarily replaced his brother, Xaver Reiter, who had abruptly fled Boston for personal reasons in January. As the Philadelphia Inquirer put it, Xaver Reiter "left the orchestra for private reasons of a domestic kind, and Mr. Hackebarth, formerly with the Theodore Thomas Orchestra, will blow the horn in his stead." Perhaps the most interesting piece in his first season was the premiere of the Suite for Strings and Four Horns, in G minor, op. 8 by Boston composer, Arthur Whiting, on March 14, 1891. This work, composed in 1888, was no doubt originally intended for Xaver Reiter before his unexpected departure. The other members of the section were Julius Schneider, Edward Schormann, and Carl A. Schumann. The Boston Sunday Herald reviewed it as follows:

Another novelty claimed the attention of the audience at last evening's concert, this being a suite for the string orchestra and four horns by Mr. Arthur Whiting of this city, the work having its first public hearing on this occasion. It consists of six short movements styled "Præambulus", (appasionato assai), "Aria" (allegretto grazioso), "Scherzo" (vivace e scherzando), "Romanze" (adagietto), and Finale (moderato maestoso). Mr. Whiting wisely confided his composition to Mr. Nikisch for performance, and it received every possible attention in the reading given.

The Suite shows evidence of the best work Mr. Whiting has made public, and is a vastly interesting study throughout. Much originality has been shown in the use of the novel combination of instruments for which the suite is composed, and the several movements are admirably contrasted. The audience was evidently impressed with the value of this novelty, and gave a hearty commendation at its conclusion.

The highlights of the following season were the American premieres of "Don Juan" by "that young musical radical" Richard Strauss, on October 31, 1891, and later Dvorak's Eighth Symphony (then numbered as the fourth). Reviewer Elson in the Boston Daily Advertiser called the Strauss "overswollen and full of roarings, whether of ecstasy or pain it would be hard to say. ...the number of climaxes is rather bewildering ...The modern orchestral tricks are too often resorted to; the muted tones of the horn, the ugliest effects one can evoke from the orchestra, are used with lavish hand..." Of the performance, Mr. Elson wrote: "It was something to go through so difficult a work without an upset, but there was more of entusiasm than of precision in the performance, and while the two or three catastrophes, and the half dozen explosions with which the work is garnished, were dramatically done, the wind instruments were neither united in attack or well intoned, and the horn in these days is a very persistent sinner, often overblowing, and trying to make itself into a trombone, like the toad that wanted to be an ox." In the Beethoven Sixth Symphony that closed the program, Mr. Elson noted: "In the finale the horn was unclear, and it made slips in the preceding movements as well." In Mr. Hackebarth's defense, he played the entire concert on a single F horn and probably without an assistant.

Regarding the premier of the Dvorak Eighth Symphony on February 27, 1892 the review in the Boston Herald was generally favorable both of the symphony and the performance. Once again, Mr. Elson was critical of both: "Dvorak's new symphony was a disappointment at its first hearing. It is not so much a symphony as a fantasia on Slavonic folk music... It seemed a pasticcia of folk music, each theme leading to a tame and commonplace ending, not far removed from the Italian cadence as exemplified in Verdi in those young days when he deserved his patronymie... The finale was more military, but suggested rather a Tartar horde going out to battle than anything European." Of the performance he wrote: "It was generally well played, and certainly lost nothing of its effect in Mr. Nikisch's hands. The horn played badly, the trumpet overblew, and the flute work was excellent while of course the phalanx of first violins carried everything before them in their impetuous charge."

The orchestra's concert on October 22, 1892 included Tchaikovsky's Fifth Symphony. Of this performance critic Elson wrote that the main theme of the second movement (andante cantabile) was "nobly played by the first horn." The B.S.O. played it again in Brooklyn on Novermber 4. As noted above, Mr. Hackebarth had no doubt played the American premiere of this famous solo with the Theodore Thomas Orchestra, in 1889


Soon after his return to Boston Mr. Hackebarth became a member of the New England Conservatory Music Club in its first (and apparently only) season. In addition to himself the Club comprised Carl Faelten, piano; Emil Mahr and Charles Mclaughlin, violins; Daniel Kuntz, viola; Leo Schulz, cello; A. Goldstein, bass; Charles Molé, flute; Oscar Reine, oboe; Eustach Strasser, clarinet; F. H. Guenzel, bassoon; and Heinrich Schuecker, harp. All but Reine and Faelton were members of the B.S.O. in addition to being on the faculty of the New England Conservatory. The Club gave three concerts in the fall of 1890 at Union Hall; Mr. Hackebarth and Mr. Faelten performed the Beethoven Sonata on December 1. No further mention of the club has been found. The program was repeated in Boston on the Quartet's last concert of the season on April 27.

In the spring flutist Charles Molé formed the Molé Chamber Music Concert Club, a woodwind quintet, comprising the wind players listed above, but with B.S.O. oboist Auguste Sautet in place of Mr. Reine. In their first season the Molé Club presented three concerts in March and April of 1891. In September Mr. Hackebarth was advertised as the horn player for the Club's second (and last) season, however, by the time of the first concert he had resigned and was replaced by the new B.S.O. associate horn, Franz Hain.

On January 31, 1895 in Worcester, Massachusetts, and then repeated on February 18, at Union Hall, Boston, Mr. Hackebarth, together with other members of the Boston Symphony assisted the very popular Kneisel Quartet in performances of the Beethoven Septet, in E-Flat, op. 20.6 The following season on March 22, 1896 he was once again a guest on a Kneisel Quartet concert, this time in New York. On that occasion he played the Brahms Horn Trio with Franz Kenisel, violin, and Rafael Joseffy, piano. The Boston Journal reported: "Mr. Hackebarth in the trio of Brahms was a worthy associate of such true artists as Mr Kneisel and Mr. Joseffy. In quality of tone, beauty of phrasing, and general musical feeling, his performance was one of unusual merit."

On June 24, the Boston Journal announced: "The Promenade Concert at Music Hall this evening promises to add one more to the long list of excellent concerts. The French Horn Quartet, composed of Mr. Hackebarth, Mr. [Franz] Hain, Mr. [Carl] Schumann and Mr. [Heinrich] Lorbeer, have been secured and will play three selections. ...a. "In einem kühlen Grunde," Gluck, b. "Der frohe Wandersmann," Mendelssohn, c. "When Evening's; Twilight," Hatton. The quartet made a second appearance on June 30 (see advertisement at right). The horn quartet performed again at a concert and party celebrating the one-hundredth anniversary of the birth of Franz Schubert, by the Orpheus Music Society on February 6, 1897. The program consisted entirely of Schubert melodies. The quartet played "Weihegesang", "Der Lindenbaum"e;, ".Die Nacht", and accompanied the Society in "Nachtgesang in Walde". For the summer Pop concert conducted by Leo Shulz at the Music Hall on June 10, Mr. Hackebarth performed the Titl Serenade with Léon Jacquet, flute, and the following week of the same series the horn quartet appeared on June 18.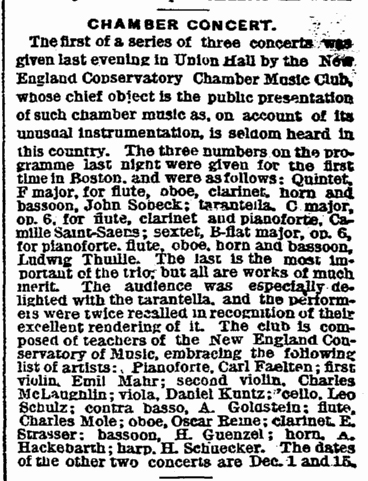 The Boston Herald, November 18, 1890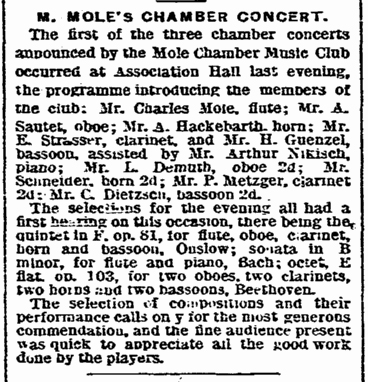 The Boston Herald, March 3, 1891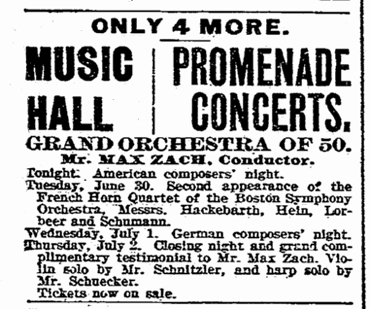 The Boston Herald, June 29, 1896
On December 3, 1900 Mr. Hackebarth, with Georges Longy, oboe, Alexandre Selmer, clarinet, Hugo Litke, bassoon, and Ernest Perabo, piano performed the Quintet for piano and winds, op. 20 by Theodorus Hendricus Hubertus Verhey, on a Kneisel Quartet program. Critic Elson wrote in the Boston Daily Advertiser that it "was a welcome variety in these concerts where the string tone is almost always predominant." Two weeks later, Georges Longy7gave the inaugural concerts of his own Longy Club, comprising himself as oboe; André Maquarre, flute; Mr. Selmer, clarinet; Mr. Hackebarth, horn; Mr. Litke, bassoon; and Heinrich Gebbard, piano; with Arthur Brooke, flute; Auguste Sautet, oboe; Peter Metzger, clarinet; Paul Litke, bassoon, and Franz Hain horn, as assisting players.

Mr. Hackebarth served in the first chair of the B.S.O. horn section until the 1905-1906 season when he shared that position with Max Hess. In 1907 Albert Hackebarth was moved to seventh of eight horns, where he remained until he retired at the end of the 1912-1913 season at the age of sixty.



The Boston Herald, December3, 1900