Adolf V. Belz was born in Prussia in January, 1842, and "studied under the best instructors of Germany". Before coming to the United States he was a member of the the Royal Orchestra of the King of Wurtemburg. He was engaged as a solo performer with the Imperial Russian Orchestra at St. Petersburg where he won great distinction. In 1872 he came to the United States with the Russian Horn Quartette. Mr. Belz joined the New York Philharmonic for the 1873 - 1874 season appearing as fourth horn for the November concert then moving to third horn. The following year a new "Philharmonic Club" was formed in Boston and Mr. Belz became its solo horn. He was also listed (1891) as the principal horn in the Symphony Orchestra of New York, under Walter Damrosch. In September, 1893 however, he was one of twenty members (including fellow horn player B. Riese) not rehired by Mr. Damrosch for the coming season. No reason was given by Mr. Damrosch. In April, 1895 he was engaged as principal horn of the Boston Festival Orchestra for the New Bedford Massachusetts Choral Society Festival. In 1903 Mr. Belz was recruited by composer, critic, and conductor Reginald De Koven to be second horn in the short-lived Washington D.C. Symphony.

On July 8, 1892 Mr. Belz' first wife, Julia (b. 1844) died; He remarried in 1898.

The horn he is shown holding in the above lithograph is probably the one of "a valuable metal composition" given to him by the King of Wurtemburg. It is a typical German design probably pitched in F, with fixed leadpipe and bell garland. It appears that the artist has exercised some license with the details, including the curious strap or tube running diagonally through the body.

Repertoire:
Solos performed with the Boston Philharmonic Club included "Air d'Eglise" (Stradella), "Troubadour Fantasy for French Horn" (Belz), "Am Meer" (Schubert), "Song Without Words", op. 30 (Mendelssohn)

Reviews:
"Mr. Adolph Belz showed himself a master of the French horn and his fantastic solo on the that lisping instrument, the flute, gave us most pleasure, although we confess anything like discrimination would be mainly a matter of taste." (Worcester, Massachusetts Gazette quoted in the Fitchburg Daily Sentinal, March 27, 1875).

"Adolph Belz is one of the prominent solists of this [Boston Philharmonic] club and the finest performer on the French horn that has been heard in this country, possessing the most consummate master over that instrument. The one he plays is of a valuable metal composition, and a present from the King of Wurtemburg." (Fitchburg Daily Sentinel, April 1, 1875)

"...a Fantasia for the French horn, by Adolph Belz, who showed that this somewhat undervalued instrument could, in the hands of such an artist as himself, produce the most exquisite music." (Indianapolis Sentinel, April 24, 1875)

"Mr. Adolph Belz's interpretation on the French horn of Stradella's prayer was a delicious novelty..." (New York Times, February 18, 1876).

"Mr. Belz is a horn player of exceptional eminence, with a tone superior to anything we have heard recently..." (The Cleveland Leader, February 26, 1876)

"To Mr. Belz, the French Horn soloist, was given one of the most cordial encores of the evening. His instrument, strange to so many here, pleased every one, and he is to be congratulated on his success." (The Princetonian, Princeton College, January 24, 1878)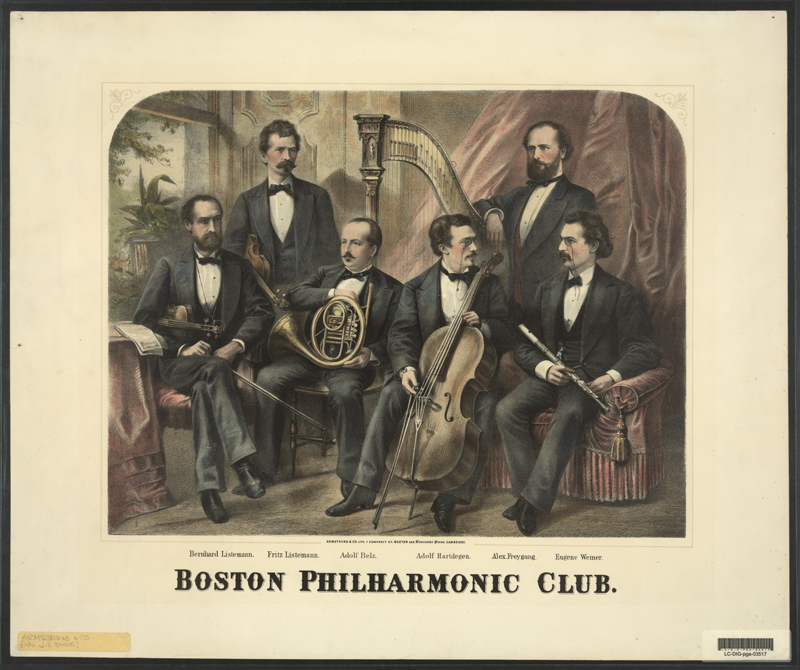 The Boston Philharmonic Club was founded by Bernhard Listemann in 1874 and for four years toured the United States, predominantly in New England and the Midwest, giving chamber music concerts at a variety of venues. The Club was often joined by vocalists and other assisting artists. Their tours took them to New York, Cleveland, Chicago, Indianapolis, and Cincinnati, including smaller towns in between, and as far west as St. Paul, Minnesota. In many cases they introduced chamber ensemble music to their audiences for the first time. They were always met with great anticipation, and universally departed with glowing reviews and high acclaim.

Bernhard Listemann (1841 - 1917), founder and solo violinist, was born at Schlotheim, Germany on August 28, 1841. He received his musical education under Ferdinand David, Joseph Joachim, and Henri Vieuxtemps, and for nine years was court Kammervirtuos at the Court of Prince of Schwarzburg Rudolstadt. He came to New York in October 1867 and made his debut in Steinway Hall the following month. He Made his Boston debut in 1868 playing Joachim's Hungarian Concerto at a Harvard Musical Association concert, and for the next two years hie lived and worked in Boston. From 1871 to 1874 was Theodore Thomas's concertmaster in New York, but he returned to Boston to resume his career as a solo and chamber music player and conductor. In addition to organizing the Boston Philharmonic Club, he also played for a time with the Mendelssohn Quintette Club.
Mr. Listemann became the first concertmaster of the Boston Symphony Orchestra and served in that capacity from 1881 to 1885, playing as a soloist 24 times. He continued his independent career in Boston as head of the Listemann Club, the Listemann String Quartet, and the Bernhard Listemann Company, and from 1893 he taught at the Chicago Musical College. On at the first meeting of the American Guild of Violinists on September 7, 1910 he was elected presiden by unanimous rising vote. Chicago on February 11, 1917.

Fritz Listemann (1839 - 1909), solo violinist, studied at the Leipzig Conservatory, and like his brother Bernhard was appointed chamber musician to the Prince of Schwarzburg Rudolfstadt, a position he held with distinction. He was first violinist with the Theodore Thomas Orchestra. Mr. Listemann joined the Boston Symphony Orchestra for its inaugural season and served from 1881 to 1885.

Emil H. Gramm (1848 - 19??), viola soloist, was born in Bonn, Germany on August, 6, 1848. He was formerly of the Thomas Orchestra, and musical director at Santa Clara College, California. Later he was a member of The Arnold String Sextette of New York (Richard Arnold, first violin; Mr. E C. Banck1, second violin; Mr. Herman Kuhn, violin and viola; Mr. Leo Taussig, 'cello; Mr. August Kalkhof, double bass).

Adolf Hartdegen (1849 - ),was born at Cassel, Germany, Nov. 17, 1849. He studied the violoncello at the Royal conservatory of Brussels, 1861 to 1867, under Adrien-François Servais (1807 - 1866). In 1867 Mr. Hardegen was awarded the first prize for violoncello and for "Lecture Musicale." He then made a concert tour through Germany, and in the fall of 1868 came to America, where Theodore Thomas engaged him at once as solo cellist. In 1871 he made a concert tour in California and South America where he was cello soloist for the Emperor of Brazil. In 1873 he returned to Europe for a year, then became associated with the Boston Philharmonic Club from 1874 to 1878. In 1878 Theodore Thomas invited him to join the College of music in Cincinnati as professor of the cello and first cellist in the orchestra. He was also cellist of the string quartet, with E. S. Jacobsohn, Theodore Thomas and C. Baeteus as the other members. When Mr. Thomas resigned the directorship of the Cincinnati college of music in 1882, Mr. Hartdegen also severed his connection with the college and removed to New York city. He subsequently became a member of the Beethoven string quartet of New York, the other members of the organization being Gustav Dannreuther, Otto K. Schill and Ernst Thiele.

Eugene Weiner, (1845 - ) flute soloist, received his education under the most distinguished masters of Germany and France, and subsequently joined the King of Prussia's director of music, Benjamin Bilse's Orchestra with which he made an extended tour through Germany and Russsia. As a leader of another concert organization, he traveled through France, Italy, and Switzerland with great success. Upon coming to this country he connected himself with the Theodore Thomas Orchestra. Orchestra and of the Theodore Thomas Orchestra.

Ernst Alexander Freygang, (1838 - ) harp soloist, with his $1200 harp, was for ten years in the Czar's Imperial Orchestra at St. Petersburg, Russia. It was reported in 1880 that he had "permanently" settled in New York, however the following year he became the first harpist in the Boston Symphony Orchestra. He served the BSO from 1881 to 1886. Although mentioned as being a member of the Boston Philharmonic Club as early as 1876, Mr. Freygang was not always included in their programs. On January 15, 1878 he appeared with the BPC in Cambridge, Massachusetts, performing Spohr's Duo for Harp and Violin, op. 113 with Mr. Listemann, of which Dwight's Journal reported: "The Duet by Spohr was a pleasing novelty for our ears, melodious and sweet to satisfy, as is so often the way with Spohr. Mr. Freygang's harp-playing is something well worth hearing any day."