Mary Dallas Robb (1918 - 2017) was born in Aberdeen, Scotland on September 28, 1918 to Frank Steven Robb (ca.1888-1971) and Jeannie Robb. Frank was a blacksmith in Edinburgh and served as a sergeant in the army engineering corps during World War I. Emigrating with his family to Canada in 1920, he continued working as a blacksmith and was Toronto city assessor retiring in 1952.

It was an oboe player who wished to form a quintet of girls but lacked a horn player who induced Mary to study the horn. "It was mighty hard for I was teaching school at the time, and the French horn takes a good deal of constant practice to master. I don't know just how long it took me to learn to play, but it was a long time." She studied the horn with Herbert and Reginald Barrow and attended Oakwood Collegiate Institute. In 1935, at the age of seventeen, she was selected to be a member of the Symphony Orchestra of Ontario Secondary School Students, to perform at the Ontario Educational Association convention, April 24. On that occasion she also played "Evening Star" from Tannhauser as a solo "with delightful legato and excellent tone". (See photo top right, Mary in 1935 with her Horner model Kruspe.)


On February 3, 1936, Mary played a Mozart concerto on the first concert of 1936 by the Toronto Conservatory (now Royal Conservatory) Orchestra. Reviewer Augustus Bridle had this to say about her performance"

Most interesting of all was the Mozart Horn Concerto by Mary Robb, who with a lovely silver-plated lady-size French horn was a real painting, even without the music. So refreshing to see a lady artist with long sleeves again, after so many bare-armed pianists and violinists. To blow a French horn standing is also an art in poising the horn - after the manner of a South Sea Islander blowing a seashell. Miss Robb played for purity of tone and exact scale-intonation. Her legato Romanza was exceptionally good and both Allegros, one with a very delicate trill, were deftly done without any over-dramatic foozling such as French horn players sometimes display in orchestras.

The following year she was a soloist with the Harmony Symphony Orchestra on the "most brilliantly varigated program ever played by a Canadian amateur orchestra", once again with a Mozart horn concerto.

Turning professional in 1938, she became the principal horn for the Promenade Symphony Concerts, as well as being hired for the orchestra of Armand Bagarozy's Columbia Opera Company for its run of eight concerts in Toronto. Despite severe financial difficulties both the Toronto Symphony and Promenade Orchestra, the latter was contracted for twenty-four summer concerts broadcast on both the CBS and NBC radio networks in the U.S. and CBC in Canada. The most important event of 1938 for Mary was her marriage to Reginald Barrow. Her engagement was announced on August 26, less than a month before the wedding ceremony on September 19, 1938. At their wedding, TSO conductor, Ernest MacMillan, was the organist, and as a surprize, played his own improvized medley of orchestral horn solos, from Strauss to Mozart to Brahms.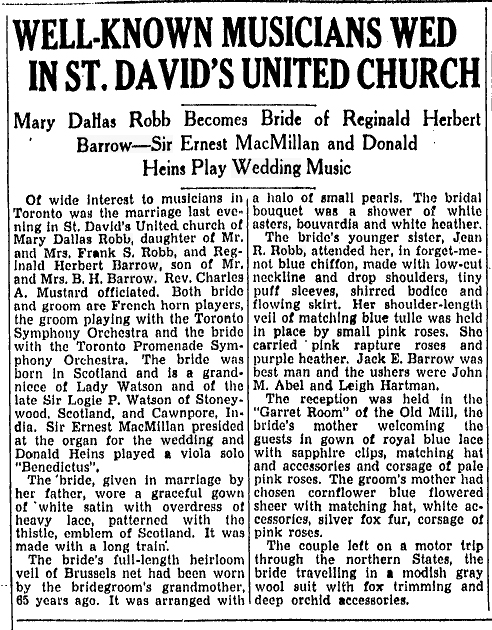 The Toronto Daily Star, September 20, 1938
The following year, Mary joined the Toronto Symphony Orchestra as principal horn, replacing her husband, Reg, who moved to second horn. She remained with the TSO until 1951, holding the principal chair until 1945. At the start of the 1939 season she and Reg were featured in a Toronto Daily Star article as the first known couple working together in a professional symphony orchestra. In Mary's second season in the T.S.O., visiting conductor Sir Thomas Beecham was "completely amazed at the facile virtuosity of Mary Robb-Barrow on the French horn".

In 1945, Mary performed the North American premier of Serenade for Tenor, Horn and Strings by Benjamin Britten. On September 30, 1946 the she and Reg were interviewed by popular CBC radio host Elwood Glover on opening day of "Symphony Week" at Simpson's department store. After leaving the Toronto Symphony, Mary and Reg joined the new CBC Symphony Orchestra (Toronto, 1952 to 1964), directed by Geoffrey Waddington. The orchestra was known for its sight-reading ability and also established a reputation for its performances of contemporary works, including numerous CBC commissions of Canadian composers.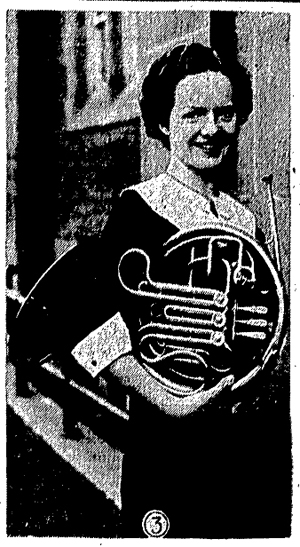 Mary Robb, The Toronto Daily Star, March 25, 1935, with her Kruspe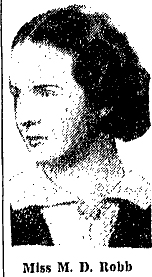 The Toronto Daily Star, September 2, 1938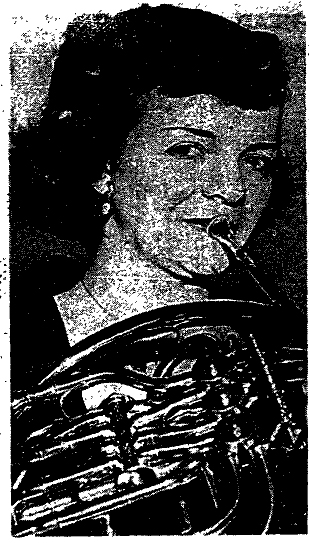 Above, Mary in October, 1950. The horn she is holding is a Lehmann-Chemnitzer patent compensating model, probably by Josef Lidl, Brno. The caption is:
"An early and colorful event of the fall social season was the opening concert in Massey Hall last night of the Toronto Symphony Orchestra. [The] charming French horn player is Mary Barrow."
The Toronto Daily Star, October 25, 1950